Switch to ENG
Arjun Kapoor has been trolled several times in the past and today he was trolled again. This time, it was or his fitness. While Arjun has chosen to keep mum after being trolled on many occasions in the past, he decided to give it back this time around. Arjun's girlfriend Malaika has also reacted on it. Also Read – Boycott Bollywood: Vijay Deverakonda, Aamir Khan, Kareena Kapoor Khan and more – Who said what on the ongoing cancel culture
So, calling Arjun a rich guy, a troll wrote, "Man ur a lucky trainer to get a client like this a**, u keep printing money boy, this guy can never get in shape. He is a rich boy with no mentality bro." Arjun replied back and schooled the troll. He said that fitness is not just about having cuts on your body. He added, "The shift in mentality the ability to show up and push hard to smile through a session to eat clean to be disciplined in adversity to make each session count and improve ur actual health and strength and posture and ability to push isn't the point of working our right???" Also Read – Sonam Kapoor and Anand Ahuja blessed with a baby boy
Sonam Kapoor and Anand Ahuja blessed with a baby boy
Koffee With Karan Season 7: Cousins Arjun Kapoor and Sonam Kapoor Ahuja all set to make some revelations in the upcoming episode of Karan Johar's chat show
Malaika Arora and Arjun Kapoor twin and win with their fashion goals but their PDA steals the show [Watch Video]
Inside Malaika Arora and Arjun Kapoor's most romantic moments from Paris; this will surely melt your heart
Ek Villain Returns Trailer: Intense action between Arjun Kapoor and John Abraham will leave you gripped; Disha Patani and Tara Sutaria add new twist
After Ranbir Kapoor-Alia Bhatt; Malaika Arora-Arjun Kapoor all set to get married in winter 2022
He later shared the screenshot of his conversation and wrote, "Fitness is way more than that for anyone who's ever struggled to just lead a normal healthy life and be mentally happy and calm by living for yourself taking care of yourself doing best you can and forming a routine despite obstacles not just about looking like a faceless DP." Also Read – Koffee With Karan 7: Vicky Kaushal-Sidharth Malhotra, Aamir Khan-Kareena Kapoor and more – which was the least entertaining episode so far? VOTE NOW
Sharing his screenshot, girlf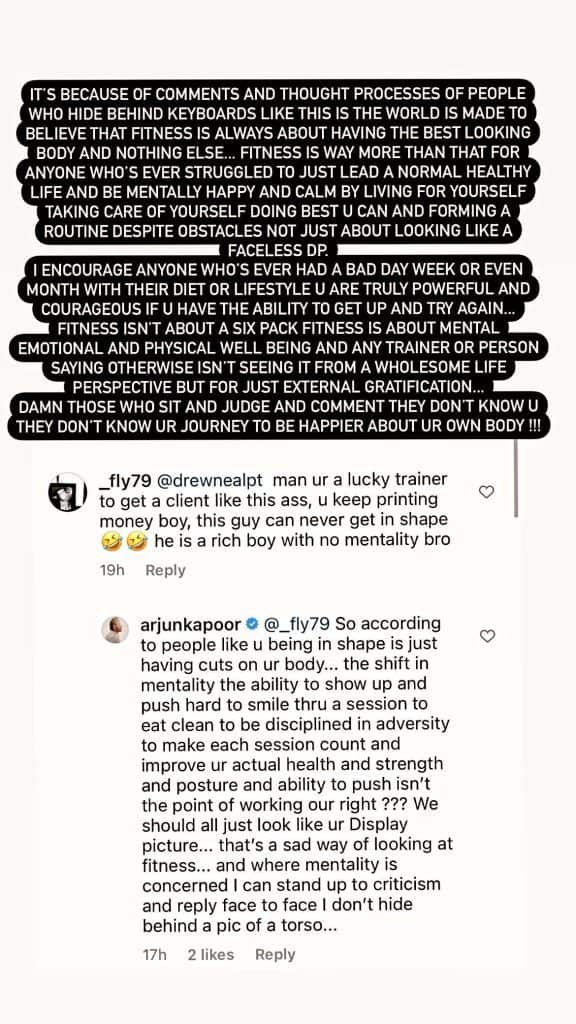 riend Malaika Arora wrote on her Instagram Stories, "Well said, Arjun and don't ever let these trolls and criticism dull your shine… more power to you and your journey."
Malaika and Arjun are in a relationship since many years now. They keep giving us couple goals every now and then. There were recent reports that they might get married later this year in Mumbai. We will have to wait and watch if they actually do end up tying the knot this year.
Copyright © 2022 India Dot Com Private Limited. All rights reserved.